Firewood
Firewood is now seen as an environmentally friendly means of heating because using it results in virtually no additional 'fossil' carbon dioxide being added to our present environment and thus helps minimise the effects of climate change. Firewood is also a renewable resource and using it today will not prevent our children and grandchildren from using firewood in the future.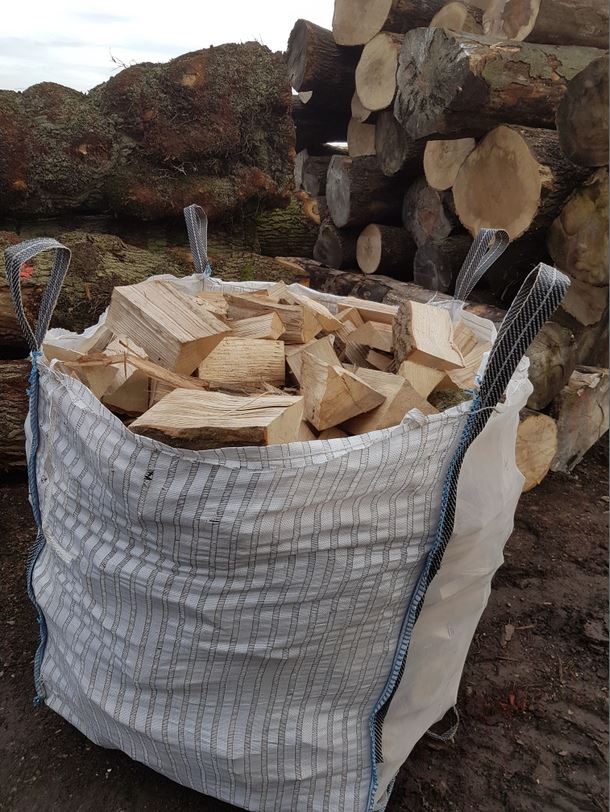 I sell wood by volume rather than by weight because between 35% and 60% of the weight of freshly felled wood comes from water. Dry seasoned is the best to which is why it is all I sell. It is a bad idea to try and to burn unseasoned wood as it will produce less heat and large amounts of steam and will create long term problems with the chimney and flue. These problems can be particularly bad where damp wood is burnt in a cast iron fireplace.
You can tell the wood that I sell has been air dried as the bark when pulled back will come away fairly easily. Conversely you should not burn "kiln dried" wood as it burns much, much hotter than "air dried" wood and can easily damage any enclosed fireplace it is used in.
Any wood you store should be stored undercover but away from the house so as to remain dry until used.
As with an open fire you must ensure that the fireplace is well maintained and the chimney is swept on a regular basis.
Useful Links
National Association of Chimney Sweeps (NACS)
Unit 15 Emerald Way , Stone Business Park , Stone, Staffs ST15 0SR. Tel: 01785 811732.
Website:http://www.chimneyworks.co.uk/
National Fireplace Association
6th Floor, The McLaren Building , 35 Dale End, Birmingham B4 7LN. Tel 0121 200 1310.
Website: http://www.fireplace.co.uk
Firewood
I have a very large supply of seasoned Ash and other hardwoods cut, stacked and dry ready for delivery to your home.
I prefer to sell seasoned Ash as its the best firewood available. Remember the old rhyme:
But Ash new or Ash old,
Is fit for a queen with crown of gold....
But Ash green or Ash brown
Is fit for a queen with golden crown....
But Ash wet or Ash dry
a king shall warm his slippers by....
Firewood Prices
Deliveries of mixed hardwood which is dry, split and ready to burn is priced at:
Kindling Nets £3.50
3 x Kindling Nets £10
Nets Of Logs £5
7 x nets for £30
Half Trailer of wood 1.1 cubic Metres (approx) £60
Full Trailer of wood 2.2 cubic Metres (approx) £100
Jumbo Load of Wood £220.
Delivery within 8 miles of Burton Latimer is free.
All other distances are by agreement.